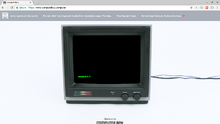 ComputerBoy.Computer was a website created by Poppy and Super Deluxe in 2017. As of 2019, the site redirects to the Twitter handle @c0mput3r80y.[1]
Description
The site was created to promote Poppy's then-upcoming song "Computer Boy", with the website "created" by the song's namesake character. Computer Boy would post riddles on the website. There was also a password system which created speculation as many fans tried to guess the password; however, it is assumed that no one figured it out.
Trivia
The website is referenced in Poppy's now-unlisted livestream "Call Poppy 805-624-6667". When Computer Boy calls Poppy a second time, he repeats the website's URL four times.
References
Community content is available under
CC-BY-SA
unless otherwise noted.