"Metal" is a song originally by Gary Numan that Poppy covered. It was released as a single on July 6th, 2018. The audio currently has over 1 million views on YouTube.
Lyrics
We're in the building where they make us grow
And I'm frightened by the liquid engineers
Like you
My Mallory heart is sure to fail
I could crawl around the floor just like I'm real
Like you

The sound of metal, I want to be you
I should learn to be a man
Like you
Plug me in and turn me on
Oh, everything is moving

I need my treatment, it's tomorrow they send me
Singing, "I am an American"
Do you?
Picture this, if I could make the change
I'd love to pull the wires from the wall
Did you?

And who are you? And how could I try?
Here inside, I like metal
Did you?
And who are you? And how could I try?
Here inside, I like metal
Don't you?

All I know is no one dies
I'm still confusing love with need
Audio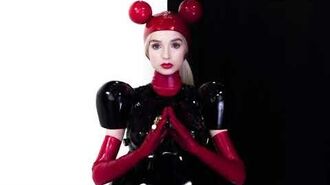 Reception
"Metal" was met with confused reception from fans and the media, expecting it to be a new single. With the recent announcement of her second album Am I a Girl?, fans expected Poppy to release the album's first single rather than a standalone cover. As such, it was met with fewer streams and views than most official Poppy singles.
Trivia
This is the first Poppy cover of the "Poppy" era that was officially released as a single.
When the audio was released on YouTube, people who had Poppy.Church open would be redirected to the video, specifically at 9:36 PM PST.
Poppy wears an MUS Hood Open Face version on the single artwork, a piece of headwear designed by Nange Magro.
References
Community content is available under
CC-BY-SA
unless otherwise noted.