You are reading the page dedicated to the character in Poppy's videos. You may have been wanting to read about the character in Genesis 1.
Skeleton is a recurring character in Poppy's videos.
Biography
Skeleton is a plastic skeleton model that is acquainted with Charlotte and Plant. He seems to not be fond of Poppy, having lost interest with her and her videos.
Skeleton first appears in the video "It's Summer Time". Poppy exclaims that it is summer time, but Skeleton chimes in and tells her that it is not summer time yet; it is only May. In "Lost Slipper", Skeleton assists Poppy in finding a slipper she lost at the "masquerade".
In "Poppy Changed", Skeleton remarks that Poppy has changed and has become "one of those Hollywood people". He agrees with Charlotte and tries to convince Plant that she has changed. He later appears in "I Dont Even Like Poppy" after a two-month absence from Poppy's videos. In this video, Skeleton claims that he has been busy and berates both Charlotte and Plant for still being interested in Poppy.
In "I Need to Buy More", Skeleton is revealed to be selling drugs to Charlotte. He tells Charlotte that she does not look well, warning her not to have too many of the drugs. He then leaves Charlotte behind.
After a year and a half, Skeleton made a non-canon appearance in the now-unavailable Flighthouse video "Poppy Isn't Dead", albeit with a slightly different appearance. In the video, he tells Poppy that there is a "spooky skeleton" inside of her body. Upon Poppy showing interest in what a "Poppy skeleton" looks like, Skeleton says that skeletons have a special ability to see inside of bodies, and reveals Poppy's skeleton to her. Finally, Poppy asks if Skeleton would like to come to her performance at The Wiltern, to which he happily accepts.
Following a mention in Poppy's cover of "Auld Lang Syne", Skeleton would formally return in the video "Hey Plant What", after nearly two years of absence from Poppy's videos. In the video, he pesters Plant repeatedly, saying "hey Plant" or "hey Plant, guess what?". In the following video, "I'm Out of Here", Poppy confronts Skeleton for harassing Plant, though Skeleton denies that he did anything wrong.
Appearance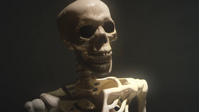 Skeleton appears as a white, plastic skeleton model. His eyes are black. When Skeleton moves, he appears to move in the air as if he is being pulled by a string. Skeleton speaks in a similar distorted voice that Plant does.
Skeleton has a slightly different appearance in the Flighthouse video "Poppy Isn't Dead". Unlike in Poppy's own videos, he does not move in the video, standing completely still while speaking to Poppy.
Gallery